Subscribe to the show in iTunes. You can also leave a quick rating or leave a review.


*NEW* Listen or subscribe on Google Play Music.

Give us a like on Facebook.

Check out the D&D Show YouTube page
Show Notes:
NBA
2016 NBA Finals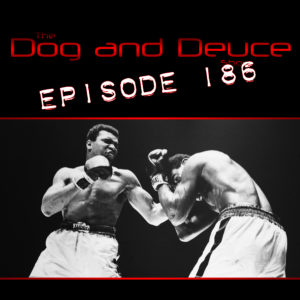 After getting embarrassed in the first two games of the NBA Finals the Cavaliers bounced back with a 30 point win in game three. But can Cleveland continue to shut down Stephen Curry and Klay Thompson? Will Golden State's bench resurface for game four?
LeBron James is 2-5 all time in the NBA Finals and if the first two games of this one are any indication he may be on his way to losing another one. How is it possible for the best player in the world to have such a poor record on the biggest stage? How would things be different if he had a good head coach to mentor him? Does he insist on controlling everything around him? Should he take a lesson from Michael Jordan and Magic Johnson and put trust in a head coach to help make him a better player?
Boxing
Muhammad Ali: 1942-2016
The world was saddened by the news that Muhammad Ali passed away over the weekend. Ali was certainly a divisive figure both in and out of the ring but no one can deny that he changed the world. We look back on his career as the greatest boxer of all time and as a social activist.
___________________________
Call or text the D & D Voicemail and Text Line at 801-47-SPORT (801-477-7678) and let us know what you think
Subscribe, rate or review us in iTunes
Check us out on YouTube
Leave us a comment on Facebook
Find us on Google Plus
Follow us on Twitter: @DogAndDeuce
Follow Dog on Twitter: @AMartindaleFilm
Send us an email at DogAndDeuce@gmail.com

Comments