Subscribe to the show in iTunes. You can also leave a quick rating or leave a review.


Listen or subscribe on Google Play Music.

Hear the show on TuneIn Radio.

Watch every episode at SouthernUtahLive.com.
Our podcast network
Dog and Deuce is a proud member of the Podcast Collective! Head over to PodcastCollective.com to find tons of other great shows!
Show Notes:
NBA
2017 NBA Finals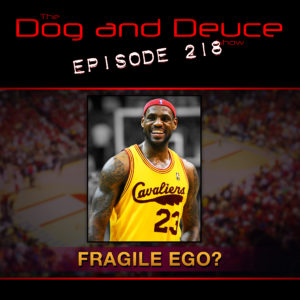 The Conference Finals sucked so we look ahead to the Cavaliers / Warriors in the Finals. Is Kevin Durant's ego more fragile than LeBron James'?
San Antonio Spurs / Manu Ginobili
Fans in San Antonio gave Manu Ginobili a standing ovation after the Spurs were swept by the Warriors. Ginobili waved to the crowd as he left the floor but does that mean he's going to retire? Does his resurgence in the playoffs mean he'll return for another season?
Movies
Robert De Niro vs Jack Nicholson
For listeners who may have missed it, we re-ignite our De Niro vs. Nicholson debate. Who is the better actor? Who has the better legacy?
---
Call or text the D & D Voicemail and Text Line at 801-47-SPORT (801-477-7678) and let us know what you think
Subscribe, rate or review us in iTunes
Listen or subscribe on Google Play Music
Check us out on YouTube
Leave us a comment on Facebook
Find us on Google Plus
Follow us on Twitter: @DogAndDeuce
Follow Dog on Twitter: @AMartindaleFilm
Send us an email at DogAndDeuce@gmail.com
Find more great podcasts over at The Podcast Collective

Comments