Subscribe to the show in iTunes. You can also leave a quick rating or leave a review.


Give us a like on Facebook.

Check out the D&D Show YouTube page
Show Notes:
College Football
Utah Utes
The Utes won big in Fresno but it wasn't pretty. The offense struggled with Kendal Thompson but Devontae Booker carried the load. Special teams saved the day with back-to-back returns from Cory Butler-Byrd and Britain Covey.
Utah faces Oregon this weekend. Will Travis Wilson be back? Can they win if he doesn't play the entire game?
BYU Cougars
The Cougars went down to the Rose Bowl and nearly upset 10th ranked UCLA. This weekend BYU faces a fierce Michigan defense. Can they bounce back from the heartbreaking loss and quiet Wolverines fans?
Utah State Aggies
This early season has been rough for Utah State and things only got worse last weekend. Not only did they lose to Washington on the road, but they also lost Chuckie Keeton to a knee injury for at least 4-6 weeks. Can Kent Myers step into the starting role and get the Aggies back on track?
NFL
Week 3
Simply said, we struggled last week. Can we make a comeback this week?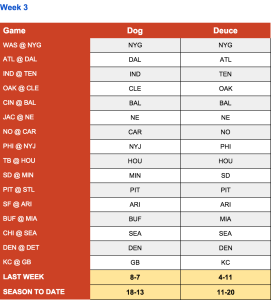 ___________________________
Call or text the D & D Voicemail and Text Line at 801-47-SPORT (801-477-7678) and let us know what you think
Subscribe, rate or review us in iTunes
Check us out on YouTube
Leave us a comment on Facebook
Find us on Google Plus
Follow us on Twitter: @DogAndDeuce
Follow Dog on Twitter: @AMartindaleFilm
Send us an email at DogAndDeuce@gmail.com

<img title="studio-B-sticker-cleaned-e1313872037325" src="http://www.doganddeuce.com/wp-content/uploads/2011/08
Comments