Subscribe to the show in iTunes. You can also leave a quick rating or leave a review.


*NEW* Listen or subscribe on Google Play Music.

Give us a like on Facebook.

Check out the D&D Show YouTube page
We are very excited to now be a part of the Podcast Collective! Its an incredible podcast network that includes such shows as I Am Salt Lake, The Bad Parenting Podcast, and The Rad Dad Radio Hour. You can find those and tons of other great shows at PodcastCollective.com
Show Notes:
We want to give a big thanks to Bill Riley and the Holladay Chamber of Commerce for their contributions to this week's show!
College Football preview
Utah Utes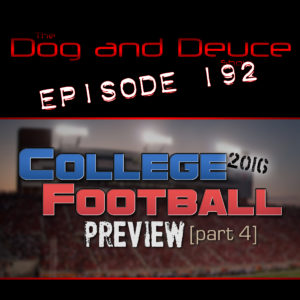 Kickoff to the college football season is just hours away and Bill Riley from ESPN 700 joins us to preview Utah's season. Will the Utes finally find consistency at quarterback? How good is the defense? Is a Pac-12 South championship a realistic goal? Will they be able to beat BYU in week 2?
You can hear Bill every afternoon from 11:00 - 2:00 on ESPN 700. He is also the radio voice of Utah football, basketball and Real Salt Lake.
Stay up to date on the Utes by following him on Twitter: @espn700bill
BYU Cougars
Kalani Sitake kicks off his head coaching career against a familiar Pac-12 foe. Although he has faced Arizona as a coordinator, how much different will it be as a head coach? Will the BYU defense be quick enough to stifle Anu Solomon? Should fans take comfort in Rich Rodriguez's admission that he has no clue how to prepare for the Cougars?
Utah State Aggies
After nearly being upset by Southern Utah in the opener last season, the Aggies need to dominate Weber State. How can Matt Wells make sure his team doesn't look ahead to USC?
NFL
Colin Kaepernick
Colin Kaepernick stirred up quite a controversy by not standing for the National Anthem. Is this the right way to go about creating a social dialogue? Did he really bring attention to the issue or did he make the discussion all about him?
Feedback
Big thanks to the Holladay Chamber of Commerce for their feedback this week.
@DogAndDeuce On average, as a first timer, how deep into the show does one have to forward for actual topic? #WaitForIt

— Holladay Chamber (@holladaychamber) August 31, 2016

___________________________
Call or text the D & D Voicemail and Text Line at 801-47-SPORT (801-477-7678) and let us know what you think
Subscribe, rate or review us in iTunes
Listen or subscribe on Google Play Music
Check us out on YouTube
Leave us a comment on Facebook
Find us on Google Plus
Follow us on Twitter: @DogAndDeuce
Follow Dog on Twitter: @AMartindaleFilm
Send us an email at DogAndDeuce@gmail.com
Find more great podcasts over at The Podcast Collective

Comments