Subscribe to the show in iTunes. You can also leave a quick rating or leave a review.


Listen or subscribe on Google Play Music.

Hear the show on TuneIn Radio.

Watch every episode at SouthernUtahLive.com.
We are a proud member of the Podcast Collective! Its an incredible podcast network that includes such shows as I Am Salt Lake, The Bad Parenting Podcast and The Rad Dad Radio Hour. You can find those and tons of other great shows at PodcastCollective.com.
Show Notes:
Alan Zaugg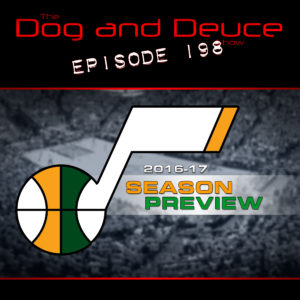 Our Utah Jazz correspondent Alan Zaugg returns to the show this week! Alan is a podcaster, writer and overall Star Wars connoisseur.
If you are a Jazz or NBA fan you need to listen to Alan's podcast Jedi & Jerms on the Jazz. He, along with John English and producer Devin, provide the most in-depth coverage of the Jazz that you're likely to find anywhere.
NBA
Utah Jazz
With a trio of experienced veterans and a fully healed Dante Exum, Jazz fans are anxious to see exactly what this revamped team is capable of. But how much will the Gordon Hayward injury effect their playoff hopes? What will the starting lineup look like? And will we ever see Rudy Gobert become an offensive force?
Plus we give our win predictions and Alan Zaugg tells us exactly what playoff seed the Jazz can expect.
College Football
Phil Steele
Back in August we had the chance to welcome back college football expert Phil Steele. He previewed the Utes, Cougars and Aggies' seasons and made some pretty bold predictions. We revisit that interview to see how all three teams have stacked up at the half way point.
Phil Steele links:
---
Call or text the D & D Voicemail and Text Line at 801-47-SPORT (801-477-7678) and let us know what you think
Subscribe, rate or review us in iTunes
Listen or subscribe on Google Play Music
Check us out on YouTube
Leave us a comment on Facebook
Find us on Google Plus
Follow us on Twitter: @DogAndDeuce
Follow Dog on Twitter: @AMartindaleFilm
Send us an email at DogAndDeuce@gmail.com
Find more great podcasts over at The Podcast Collective

Comments