Subscribe to the show in iTunes. You can also leave a quick rating or leave a review.


Give us a like on Facebook.

Check out the D&D Show YouTube page
Show Notes:
NBA
Utah Jazz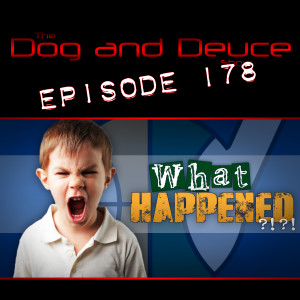 It was a rough finish to the season for the Jazz who were eliminated from playoff contention this week. After so much hype and promise fans are understandably disappointed, but are they taking it too hard? Is there someone on the roster who can be the undisputed leader of the team? Should Dennis Lindsey make a trade in the offseason?
Kobe Bryant / Los Angeles Lakers / Utah Jazz
It was a rough year for the 17 win Lakers but that didn't stop the entire NBA from hyping up Kobe Bryant's final season. Was it overkill? Should opposing arenas chant his name? Should opposing teams create video tributes for him?
We look back at Kobe's final game not as NBA fans, but as Jazz fans. What it good to see him go out with a bang or did was it just one more time he broke our hearts?
Golden State Warriors
The talk of the sports world this year has undoubtedly been Stephen Curry and the Golden State Warriors. They made history on Wednesday by winning an NBA record 73 games in one season. How angry is Michael Jordan, whose 1996 Chicago Bulls previously held the record? What makes the Warriors so fascinating to watch?
Jerry Sloan
All of Jazz nation, along with the entire sports world, was saddened by the news that Jerry Sloan has both Parkinson's disease and Lewy body dementia. We recount some of our favorite Sloan moments and talk about what he meant to us as young Jazz fans.
___________________________
Call or text the D & D Voicemail and Text Line at 801-47-SPORT (801-477-7678) and let us know what you think
Subscribe, rate or review us in iTunes
Check us out on YouTube
Leave us a comment on Facebook
Find us on Google Plus
Follow us on Twitter: @DogAndDeuce
Follow Dog on Twitter: @AMartindaleFilm
Send us an email at DogAndDeuce@gmail.com
<a href="http://www.doganddeuce.com/wp-content/uploads/2015/10/Logo-transparent-newgradient.p
Comments