Subscribe to the show in iTunes. You can also leave a quick rating or leave a review.


Listen or subscribe on Google Play Music.

Hear the show on TuneIn Radio.

Watch every episode at SouthernUtahLive.com.
Show Notes:
We'd like to give special thanks for the people spreading good into the world this week!
Mike Marcum from the StoneFly Fly Shop in Butte, Montana.
Chris Enger made us a sweet F-Bomb.
Check out UteDaddy's YouTube channel Singletracks and Whiskey.
College Football
Urban Meyer / Ohio State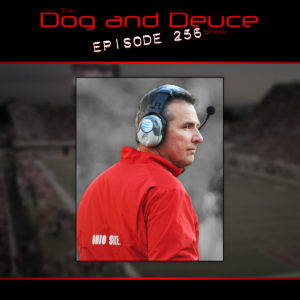 Ohio State is in the middle of a controversy. Allegations of domestic violence against former wide receivers coach Zach Smith have surfaced recently leading to questions about whether head coach Urban Meyer knew about the situation. Could this be the end of Meyer's relatively young but storied career?
NFL
Dallas Cowboys / Jerry Jones
Dallas Cowboys owner Jerry Jones has taken a very public stance on the National Anthem debate. He has stated emphatically that every single member of the team will be expected to be standing on the sidelines when the anthem is played. Which made many question his decision to not remove his hat when the anthem was played before a recent Cowboys practice. Does this make him a hypocrite? Does he think he is above the very rules he makes? Why isn't this a bigger story?
NBA
LeBron James
If you get a few minutes check out this piece by SB Nation. It describes the public school that LeBron James opened this week in Akron. This is an incredible thing that James has done that could potentially change the lives of hundreds of kids. But does this cancel out some of his more ridiculous on and off court behavior?
San Antonio Spurs / Toronto Raptors
The trade that sent Kawhi Leonard to San Antonio and DeMar DeRozan to Toronto made headlines last week. But a recent report alleges that the Celtics offered the Spurs four draft picks for Leonard. Why would Gregg Popovich and the San Antonio front office choose the Raptors deal? Was Pop being selfish?
---
Call or text the D & D Voicemail and Text Line at 801-47-SPORT (801-477-7678) and let us know what you think
Subscribe, rate or review us in iTunes
Listen or subscribe on Google Play Music
Check us out on YouTube
Give us a like on Facebook
Check us out on Instagram
Follow us on Twitter: @DogAndDeuce
Follow Dog on Twitter: @AMartindaleFilm
Find us on Google Plus
Send us an email at DogAndDeuce@gmail.com
Find more great podcasts over at The Podcast Collective
Comments