Subscribe to the show in iTunes. You can also leave a quick rating or leave a review.


Listen or subscribe on Google Play Music.

Hear the show on TuneIn Radio.

Watch every episode at SouthernUtahLive.com.
Our podcast network
Dog and Deuce is a proud member of the Podcast Collective! Head over to PodcastCollective.com to find tons of other great shows!
Show Notes:
Tony Jones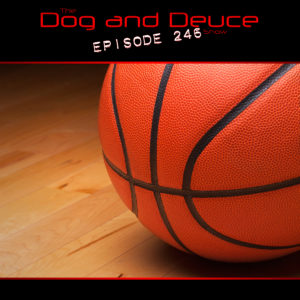 Tony Jones covers the Utah Jazz and NBA for the Salt Lake Tribune. He returns to the show to talk about the Jazz's win streak and recap All-Star 2018.
NBA
Utah Jazz
With just twenty four games left in the season the Jazz need to make up some ground to keep their playoff hopes alive. How many wins do they need? Can they keep shooting at such a high percentage? How consistent will the defense be down the stretch?
All-Star 2018
Donovan Mitchell won over the judges and the crowd at this year's dunk contest. While it was great to see a Jazz man take home the trophy, did he deserve all those perfect scores? And what the hell does DJ Khaled know about dunking? We have some ideas that could help improve future All-Star weekends and will be eagerly awaiting Adam Silver's phone call.
---
Call or text the D & D Voicemail and Text Line at 801-47-SPORT (801-477-7678) and let us know what you think
Subscribe, rate or review us in iTunes
Listen or subscribe on Google Play Music
Check us out on YouTube
Leave us a comment on Facebook
Find us on Google Plus
Follow us on Twitter: @DogAndDeuce
Follow Dog on Twitter: @AMartindaleFilm
Send us an email at DogAndDeuce@gmail.com
Find more great podcasts over at The Podcast Collective
Comments