Subscribe to the show in iTunes. You can also leave a quick rating or leave a review.


Listen or subscribe on Google Play Music.

Hear the show on TuneIn Radio.

Watch every episode at SouthernUtahLive.com.
Our podcast network
Dog and Deuce is a proud member of the Podcast Collective! Head over to PodcastCollective.com to find tons of other great shows!
Show Notes:
NBA
2017 NBA Finals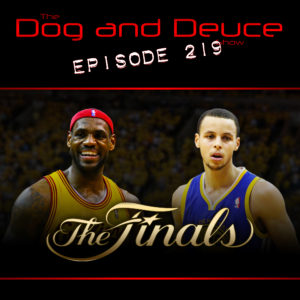 For the most part the NBA post season has been less than stellar. There were a few early series that went the full seven games but the Conference Finals were exceptionally boring. However, all the hype would have us believe that the Cavaliers and Warriors matchup in the Finals will make up for every blow out game and swept series; but will it really be that exciting?
In our 2017 NBA Finals preview we disagree on pretty much every single point of contention and the debate gets a little nuanced. But we power through it and make our picks.
Tiger Woods
Tons of conflicting reports surfaced earlier in the week about Tiger Woods' arrest for driving under the influence. The dust eventually settled and we learned that Woods wasn't drunk but on various prescription medications. Did he take these because of his recent surgery or is there a deeper, more concerning addiction problem at play?
Click here to listen to our interview with former NBA player and heroin addict Chris Herren all the way back on episode #113. He was able to give us some valuable insight into addiction and recovery.
Major League Baseball
Bryce Harper / Hunter Strickland
There hasn't been many bench clearing baseball brawls in a while but Bryce Harper and Hunter Strickland sparked one for the ages! We discuss the pitch, the mis-thrown helmet and the event all the way back in 2014 that started the whole thing.
---
Call or text the D & D Voicemail and Text Line at 801-47-SPORT (801-477-7678) and let us know what you think
Subscribe, rate or review us in iTunes
Listen or subscribe on Google Play Music
Check us out on YouTube
Leave us a comment on Facebook
Find us on Google Plus
Follow us on Twitter: @DogAndDeuce
Follow Dog on Twitter: @AMartindaleFilm
Send us an email at DogAndDeuce@gmail.com
Find more great podcasts over at The Podcast Collective

Comments