Subscribe to the show in iTunes. You can also leave a quick rating or leave a review.


Listen or subscribe on Google Play Music.

Hear the show on TuneIn Radio.

Watch every episode at SouthernUtahLive.com.
We are a proud member of the Podcast Collective! Head over to PodcastCollective.com to find tons of other great podcasts!
Show Notes:
NBA
Utah Jazz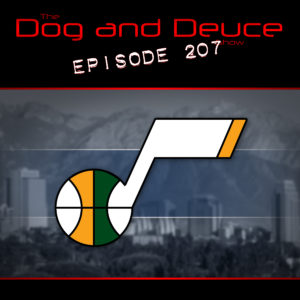 It was announced earlier this week that ownership the Utah Jazz would transfer from Gail Miller to a legacy trust. This would make it incredibly difficult for the team to be sold, effectively meaning that the Jazz will most likely remain in Salt Lake City forever. This naturally made us nostalgic and we discuss our favorite players and memories.
We also look ahead to the upcoming schedule. What do the Jazz need to do to solidify their playoff position before the All-Star break? Is it realistic to expect them to win the next four games?
NFL
2017 NFL Playoffs - NFC & AFC Championships
After getting pumped for championship Sunday, NFL fans across the country were incredibly disappointed with the lopsided wins by the Falcons and Patriots. How much of a distraction was Antonio Brown's Facebook Live scandal for the Steelers? Should Ben Roethlisberger have called out his teammates? Will he decide to play next year?
Without a whole of stories coming from the NFC & AFC Championships we take a quick look ahead to Super Bowl LI. Who do fans dislike more, the Patriots or Roger Goodell?
---
Call or text the D & D Voicemail and Text Line at 801-47-SPORT (801-477-7678) and let us know what you think
Subscribe, rate or review us in iTunes
Listen or subscribe on Google Play Music
Check us out on YouTube
Leave us a comment on Facebook
Find us on Google Plus
Follow us on Twitter: @DogAndDeuce
Follow Dog on Twitter: @AMartindaleFilm
Send us an email at DogAndDeuce@gmail.com
Find more great podcasts over at The Podcast Collective

Comments