Subscribe to the show in iTunes. You can also leave a quick rating or leave a review.


*NEW* Listen or subscribe on Google Play Music.

Give us a like on Facebook.

Check out the D&D Show YouTube page
We are very excited to now be a part of the Podcast Collective! Its an incredible podcast network that includes such shows as I Am Salt Lake, The Bad Parenting Podcast, and The Rad Dad Radio Hour. You can find those and tons of other great shows at PodcastCollective.com
Show Notes:
Phil Steele
College Football Preview 2016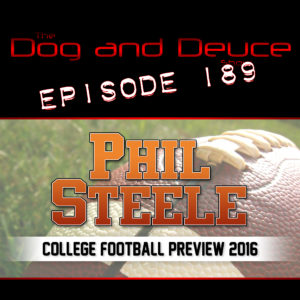 Returning for the 4th consecutive year is legendary college football expert Phil Steele. Phil explains what we can expect to see from the Utes, Cougars & Aggies in 2016...and he knows exactly who BYU's starting quarterback will be!
Phil Steele links:
2016 Olympic Games
The Rio Games are here! We talk USA Basketball and introduce you to the best player you've never heard of!
Movies
We debate the age-old question: Robert DeNiro or Jack Nicholson?
___________________________
Call or text the D & D Voicemail and Text Line at 801-47-SPORT (801-477-7678) and let us know what you think
Subscribe, rate or review us in iTunes
Listen or subscribe on Google Play Music
Check us out on YouTube
Leave us a comment on Facebook
Find us on Google Plus
Follow us on Twitter: @DogAndDeuce
Follow Dog on Twitter: @AMartindaleFilm
Send us an email at DogAndDeuce@gmail.com
Find more great podcasts over at The Podcast Collective

Comments