Subscribe to the show in iTunes. You can also leave a quick rating or leave a review.


*NEW* Listen or subscribe on Google Play Music.

Give us a like on Facebook.

Check out the D&D Show YouTube page
Show Notes:
NBA
Stephen Curry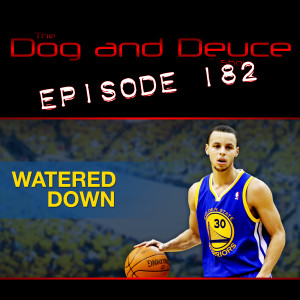 For the first time in history the NBA had a unanimous MVP vote. There is little doubt that Stephen Curry was the best player this year, but Tracy McGrady claims that the unanimous vote is a testament to how "watered down" the league is. This is reminiscent of Oscar Robertson's claim that inept coaching is the reason for Curry's success. With more and more former players making similar comments, should we start giving them credence? Are they right? Is the NBA have more or less talent than ever before?
Dwight Howard
Things got very awkward on Inside the NBA the other night when Charles Barkley unexpectedly asked guest analyst Dwight Howard some tough questions. Howard opened up about being disliked, playing with James Harden and his desire to win. Since then public opinion seems to be turning back into Howard's favor...but should it? Was be being genuine?
2016 NBA Playoffs - Conference Semifinals
The Cavs and the Warriors are moving on to their Conference Finals. The the remaining series are exactly what you want in playoff basketball (except for the officiating). Will the Thunder close out the Spurs at home? Can the Heat force a game seven against the Raptors?
___________________________
Call or text the D & D Voicemail and Text Line at 801-47-SPORT (801-477-7678) and let us know what you think
Subscribe, rate or review us in iTunes
Check us out on YouTube
Leave us a comment on Facebook
Find us on Google P
Comments