Subscribe to the show in iTunes. You can also leave a quick rating or leave a review.


Give us a like on Facebook.

Check out the D&D Show YouTube page
Show Notes:
College Basketball
Utah Utes / BYU Cougars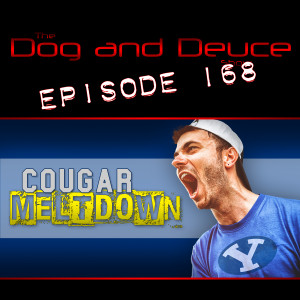 There was huge news last week when it was announced that Utah Basketball head coach Larry Krystkowiak asked athletic director Chris Hill to cancel next year's game against BYU. But we found the fan reaction - particularly from the BYU faithful and members of the local media - to be the real story. While it is sad that the game will be postponed for the foreseeable future, the rage expressed far surpassed what we would consider a healthy and reasonable reaction. Some even couldn't resist reminding everyone that the rivalry was "cancelled once by Hitler" (although the real reason for the postponement was World War II - not specifically Hitler).
College Football
BYU Cougars / Big 12
BYU got more bad news when it was announced that conferences don't need to have twelve teams in order to have a conference championship game. This means that the door may have slammed shut on the Cougars' chances to get into the Big 12. What does this mean for Kalani Sitake's recruiting efforts? How about income for all the athletic programs? Should BYU try to get into the AAC or even go back to the Mountain West?
National Championship 2016
Alabama beat Clemson in one hell of a National Championship game. We discuss the game, the Crimson Tide's fan fase, Nick Saban and Deshaun Watson's performance in the losing effort.
NFL
NFL Playoffs 2016
Dog's Vikings choked, but that was nothing compared to what happened to the Bengals. We review last weekend's playoff games and look ahead to what we can expect this week.
NBA
Utah Jazz / Raja Bell
Raja Bell is obviously still angry that the Utah Jazz kicked him off the team back in 2013. He tried to hide a snide comment about the Jazz being unprofessional while arguing that Gordon Hayward - and the Jazz - would benefit if the star small forward were traded. We have one choice word to describe Bell and his comments...
___________________________
Call or text the D & D Voicemail and Text Line at 801-47-SPORT (801-477-7678) and let us know what you think
Subscribe, rate or review us in iTunes
Check us out on YouTube
Leave us a comment on <a href="http://www.facebook.com/pages/The-Dog-and-Deuce-Show/157745744240665
Comments