Subscribe to the show in iTunes. You can also leave a quick rating or leave a review.


*NEW* Listen or subscribe on Google Play Music.

Give us a like on Facebook.

Check out the D&D Show YouTube page
Show Notes:
NBA
2016 Western Conference Finals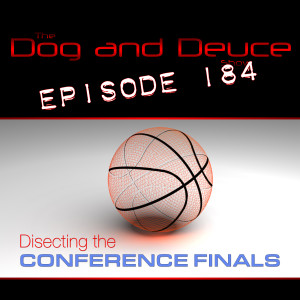 During the regular season the Warriors only lost nine games. In their series against the Thunder they have lost three. They are one loss away from being sent home and the world is taking notice of what Kevin Durant and Russell Westbrook have done to their heavily favored opponents. But how have they been able to dominate Golden State? Can they finish it off in Oakland or will Steph Curry and company send it back to Oklahoma City?
Draymond Green's infamous kick to Steven Adams' groin in game 3 outraged fans nationwide. But when the league decided not to suspend Green for game 4 fans began to question commissioner Adam Silver's integrity. Does the NBA have an agenda to get the Warriors to the Finals?
2016 Eastern Conference Finals
After the first two games of the Eastern Conference Finals it looked like the Cavaliers would waltz into the NBA Finals unscathed. When the series shifted to Toronto, however, everything changed. LeBron James and company lost two straight and it looked like the Raptors would make a series of it. But can they bounce back from the blowout loss in game 5?
Cavs head coach Tyronn Lue publicly questioned Kevin Love's mental fortitude after game 4. Was this a rookie head-coaching mistake or were his comments inexcusable?
College Football
Utah State Aggies / Oregon State Beavers
Following his legendary playing career at Utah State, Chuckie Keeton (along with Funaki Asisi) will join Gary Andersen's coaching staff at Oregon State. What does mean for him and the Beavers?
___________________________
Call or text the D & D Voicemail and Text Line at 801-47-SPORT (801-477-7678) and let us know what you think
Subscribe, rate or review us in iTunes
Check us out on YouTube
Leave us a comment on <a
Comments