Subscribe to the show in iTunes. You can also leave a quick rating or leave a review.


Listen or subscribe on Google Play Music.

Hear the show on TuneIn Radio.

Watch every episode at SouthernUtahLive.com.
Our podcast network
Dog and Deuce is a proud member of the Podcast Collective! Head over to PodcastCollective.com to find tons of other great shows!
Show Notes:
NBA
Summer League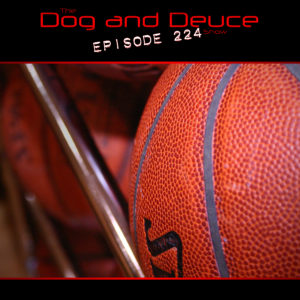 Former Ute Kyle Kuzma tore through the NBA Summer League and took home the MVP. Will this get Utah fans to actually root for the Lakers?
Jazz fans are ecstatic about Donovan Mitchell's performance but how much stock should we put in summer league play? Will he be a regular contributor as a rookie?
NBA 2K18 Player Ratings
A select group of NBA players were filmed reacting to their player ratings on the upcoming NBA 2K18. Even though its just a video game Kyrie Irving and Joel Embiid were not happy with theirs.
We give our history with the NBA 2K series and explain how it played a big role in the development of this show.
Listener Comments
We read more of your comments regarding the Curse of the Blue Note and #BETRAYWARD.
Boxing / UFC
Floyd Mayweather vs Conor McGregor
Floyd Mayweather and Conor McGregor's press tour has been entertaining, but will be more eventful than the actual fight? Is doing a whole tour overkill? Is is right for promoters to charge more to watch it in HD?
---
Call or text the D & D Voicemail and Text Line at 801-47-SPORT (801-477-7678) and let us know what you think
Subscribe, rate or review us in iTunes
Listen or subscribe on Google Play Music
Check us out on YouTube
Leave us a comment on Facebook
Find us on Google Plus
Follow us on Twitter: @DogAndDeuce
Follow Dog on Twitter: @AMartindaleFilm
Send us an email at DogAndDeuce@gmail.com
Find more great podcasts over at The Podcast Collective

Comments