Subscribe to the show in iTunes. You can also leave a quick rating or leave a review.


*NEW* Listen or subscribe on Google Play Music.

Give us a like on Facebook.

Check out the D&D Show YouTube page
We are very excited to now be a part of the Podcast Collective! Its an incredible podcast network that includes such shows as I Am Salt Lake, The Bad Parenting Podcast, and The Rad Dad Radio Hour. You can find those and tons of other great shows at PodcastCollective.com
Show Notes:
College Football preview
Utah Utes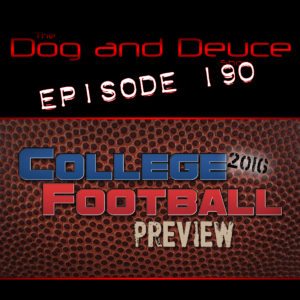 The Utes are once again projected to have a dominant defense, but can that make up for a new quarterback, questionable receivers and a step down at running back? Can Troy Williams become an effective quarterback playing for Kyle Whittingham? Can Joe Williams fill the giant shoes left by Devontae Booker? Can Utah improve on last year's ten win season?
BYU Cougars
If you're looking at the roster you could easily argue that the Cougars have the best chance to do something special of any in-state team. But going into the hardest schedule in school history with a first year head coach could lead to a disappointed fanbase. Can Taysom Hill stay healthy? Will Jamaal Williams return to form after sitting out for a year? Who should be the starting quarterback?
Utah State Aggies
Last week Phil Steele predicted that the Aggies will be the country's most improved team. Although quarterback Kent Myers is returning for his junior year, Matt Wells has elected to hire co-offensive and co-defensive coordinators. Will this be yet another case of too many cooks in the kitchen or will this setup find success?
2016 Olympic Games
There have been a lot of stories coming out of Rio and not all of them are good. With Hope Solo showcasing extreme poor sportsmanship and Ryan Lochte in the middle of a scandal, are we getting too distracted from the actual games?
___________________________
Call or text the D & D Voicemail and Text Line at 801-47-SPORT (801-477-7678) and let us know what you think
Subscribe, rate or review us in iTunes
Listen or subscribe on Google Play Music
Check us out on YouTube
Leave us a comment on Facebook
Find us on Google Plus
Follow us on Twitter: @DogAndDeuce
Follow Dog on Twitter: @AMartindaleFilm
Send us an email at DogAndDeuce@gmail.com
Find more great podcasts over at The Podcast Collective

Comments