Subscribe to the show in iTunes. You can also leave a quick rating or leave a review.


Give us a like on Facebook.

Check out the D&D Show YouTube page
Show Notes:
NBA
2016 NBA Playoffs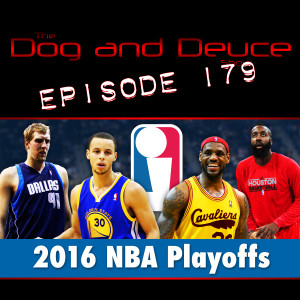 The first round of the NBA playoffs are underway. We break down the different series and James makes a bold prediction about who will come out of the Western Conference.
MLS
Real Salt Lake is currently undefeated and they look like a totally different team from last year. What has changed? How important is Nick Rimando? Are the officials too quick to card Kyle Beckerman?
NHL
2016 NHL Playoffs
James' Chicago Blackhawks are still alive and Allen's Ducks have evened up their series.
MLB
Chicago Cubs
James is excited about the Cubs' chances this season. Is it possible to get too excited about the baseball season in April?
___________________________
Call or text the D & D Voicemail and Text Line at 801-47-SPORT (801-477-7678) and let us know what you think
Subscribe, rate or review us in iTunes
Check us out on YouTube
Leave us a comment on Facebook
Find us on Google Plus
Follow us on Twitter: @DogAndDeuce
Follow Dog on Twitter: @AMartindaleFilm
Send us an email at DogAndDeuce@gmail.com

Comments